Club Deportivo Alirón Fútbol Base Tegueste (CDAFB Tegueste) has made a significant step forwards in terms of its drive towards improved sustainability by starting a collaboration with the foundation Kick Out Plastic.
This is the football club where Pedri González, who is now a Kick Out Plastic ambassador, took his first steps in the world of football. For this reason, the player from Tenerife has sponsored this sustainable project in his home town.
The event, held at Ciudad Deportiva Los Laureles, was attended by children from the same grassroots football team that he used to play with, by their parents and a committee from Tegueste Town Hall.  A modern fresh, purified water dispenser was installed in the club for the use of players, coaching staff and visitors.  Now single use plastic bottles should largely be eliminated as refreshing, cool water is available on site. And Pedri himself as well as the president of the foundation, Lars Böcking, handed over 400 reusable bottles for all the members of the club of all ages.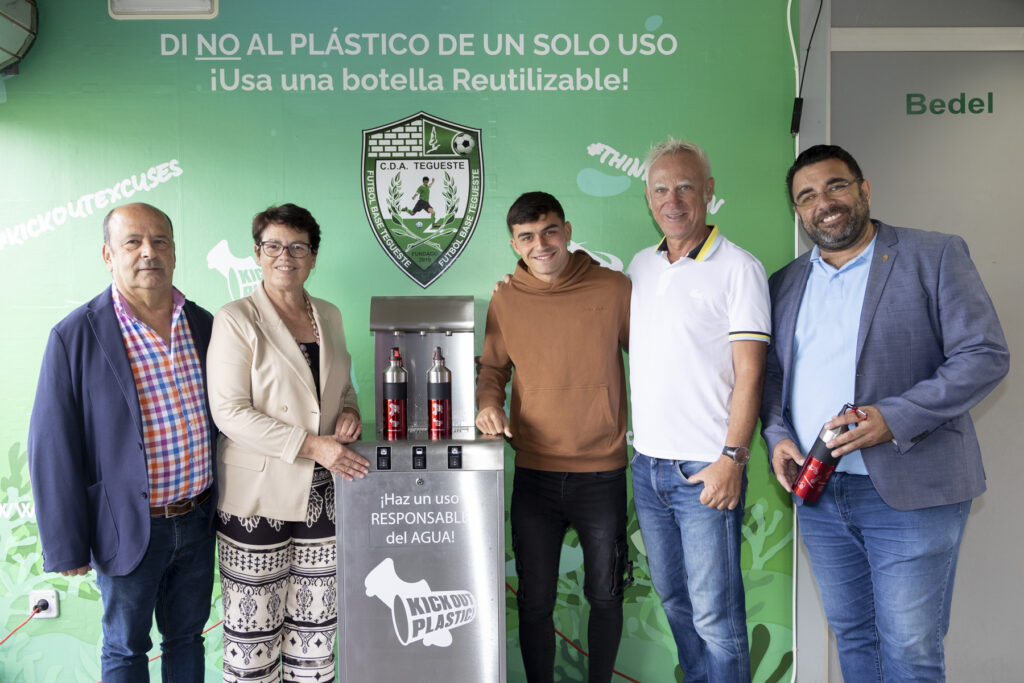 "I am very proud that Kick Out Plastic is supporting my home town and the club where I started playing as a child. When I was told about the initiative I said yes without hesitation", a delighted Pedri enthused.
The day's activities started with a 'clean up' in the Finca los Zamorano, one of the most precious natural areas of Tegueste. For Kick Out Plastic, the agreement with CDAFB Tegueste has an important strategic goal. Short-term actions like these are of course fundamental, but the key is to generate a higher level of ecological awareness and to educate the new generations in order to achieve long-term improvement.
The president of CDAFB Tegueste, José Eladio Ramos, expressed his pride and gratitude: "It is a great day for our club because Pedri has returned to be with us and share a commitment to the future of our planet: to reduce plastic waste through the project developed by Kick Out Plastic ".
Lars Böcking, president of Kick Out Plastic sought to reinforce Pedri's commitment to his home islands "Ever since we spoke to him about the project, he has always made a strong commitment to the Canary Islands and the importance of preserving its precious, world renowned environment".